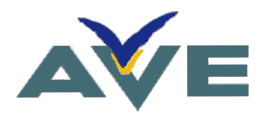 Trains & locomotives

AVE class 100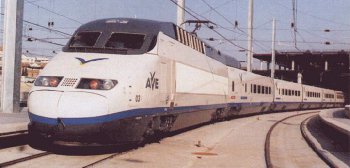 The AVE class 100 trains built by Gec-Alsthom are similar to the French high speed train TGV Atlantique, with a round nose and small changes.
Class:
Number of units:
Builders:
Top speed:
Power:
Electric voltage:
Length:
Weigth:
Number of seats:
Composition:

AVE 100
20
Gec-Alsthom, CAF, MTM & ATEINSA
300 kph
8.800 kw (12.000 CV)
25.000 V 50 Hz
200,114 m
392.620 kg empty; 421.500 kg full
313
Engine + 8 cars + engine


RENFE class 252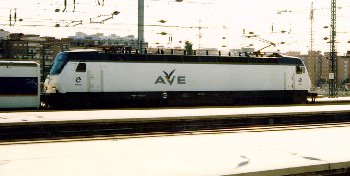 15 of the 75 electric locomotives RENFE class 252 have international gauge and are painted in the AVE colours to pull the Talgo 200 trains on the AVE track.
Class:
Number of units:
Year of construction:
Gauge:
Top speed:
Power:
Electric voltage:

RENFE 252
15
1.992
1,435 m
220 km/h
5.600 kw (7.650 CV)
3.000 V / 25.000 V 50 Hz


Talgo 200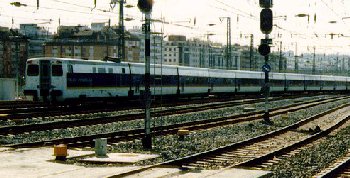 The Talgo 200 is an improved version of the Talgo Pendular with variable gauge. It can be pulled up to 260 kph and runs between Madrid and Cádiz and Huelva, using the AVE track.
Class:
Years of construction:
Allowed top speed:
Gauge:
Composition:

TALGO 200
1.994-1.996
260 kph
1,435 - 1,674 m
Generator + cars + rear car


Other locomotives
Further of the 15 class 252 locomotives, RENFE has fitted two electric locomotives class 276 for switching the Talgo 200 trains at Madrid-Puerta de Atocha station.

There are also several diesel locomotives class 319 in case of the electric power is interrupted or for possible emergencies in case of accident.