ICE demonstration tour in USA
From June to December 1994, a shortened ICE1 trainset has been rented back to the industry, for a demonstration tour in the USA. The costs of ten million dollars were funded by an AEG/Siemens consortium hoping to sell a larger number of high-speed trains to Amtrak. The train was adapted to Amtrak standards and transported from Bremerhaven to Baltimore by ship.
Pictures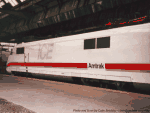 Amtrak ICE demonstration train, seen from the side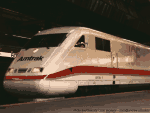 Amtrak ICE demonstration train, seen from the front
Train composition
number        description
 ----------------------------------------------------------------
 401 084-9     locomotive
 802 855-7     2nd class coach with video screens
 802 657-7     2nd class coach
 802 438-2     2nd class coach
 803 056-1     2nd cl + compartments for crew, minibar, phone
 804 051-1     BordRestaurant + BordTreff
 801 856-6     1st class coach with video screens and phone
 401 584-8     locomotive
 
Technical modifications
The electric system was modified for Amtrak's 12kV/25Hz current system. The pantographs were replaced by a Brecknell & Willes model able to handle the old catenary on Northeast Corridor with extreme height differences. The headlights were replaced by a brighter type, the cab instruments were changed to US standards, the security systems Indusi and Integra were replaced by automatic train control and automatic speed control. The gauge and wheel profile was changed too. The couplers were replaced by a knuckle coupler type H, so the train could be pulled by Diesel locomotives on non-electrified lines. For this, two prototype locomotives F69PHAC and a luggage car (serving as transformer car for powering the ICE's carriages) were repainted in the ICE livery. The demonstration train was easily distinguishable by the large Amtrak decals that replaced the DB logos.
National tour
From July to October, this ICE was shown to the public at Baltimore, Washington DC, Maryland, Pittsburgh, Albany, Maryland, Niagara Falls, Toronto, Cleveland, Detroit, Chicago, Sacramento, Oakland, San José, San Francisco, Los Angeles, San Diego, Orlando, Raleigh, Providence, Boston, Springfield and St Louis.
Regular service
From October 4 to December 15, the train was in regular service as a Metroliner between New York and Washington DC, at a speed of up to 220 km/h.
What became of this train
Since January 1995, the ICE is back to Germany. The locomotives and some of the cars are currently in experimental service, for testing ICE2 components together with the ICE/V.