| | |
| --- | --- |
| Class ICR-Benelux | |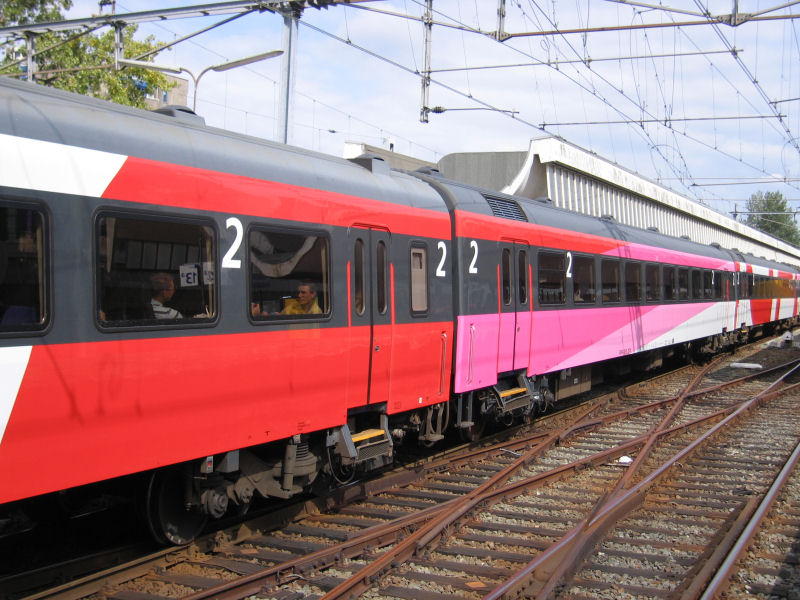 Picture from the Railfaneurope.net Picture Gallery, click
here
for the caption.
Number series (not ending on 9 or 0):
50 84 28-70 101 - 113 (Bs, second class driving trailer)
50 84 20-70 207 - 269 (B, second class)
50 84 10-70 351 - 377 (A, first class)
50 84 20-70 401 - 422 (B, second class)
50 84 10-70 481 - 492 (A, first class)
50 84 20-70 546 - 585 (B, second class)
50 84 82-70 438, 971 - 982 (BD, luggage/second class)
Number built:
10 A, 11 AB, 18 B, 11 BKD and 11 Bs
Number in service:
22 A, 42 B, 11 BD and 10 Bs (January 2009)
Introduced:
1986-1987
Maximum speed:
160km/h
Length:
26.400m
Weight:
40/41 tonnes
Builder:
Talbot (Germany)
Passenger seating:
59 first (A), 23 first+48 second (AB), 80 second (B), 45 second/rebuilt 58 second (BKD, rebuilt BD) or 64 second (Bs)
These coaches are very similar to the NS-Reizigers ICR class coaches. The major difference is that two more types are available: AB and Bs (driving trailers), and that these coaches were already from the beginning suited for push/pull service. The livery differs from the ICR class because the blue window band is replaced by a NMBS/SNCB-bordeaux red one.
The coaches operate in fixed formations of 6 coaches between Amsterdam and Brussels, pushed or pulled by a Belgian locomotive class 11.8. Only eight of these trains have been formated, such that many coaches are spare. Since the Benelux trains have been shortened from 7 to 6 coaches these coaches are also used in national InterCity trains. 3 coaches (427/431/432) have already been renumbered and repainted in blue/yellow instead of the Benelux red/yellow livery.
From February 2000 these coaches are being rebuilt similar to class ICR (new furniture, air conditioning, etc.). The BKD coaches will be rebuilt without a large baggage compartment but with 13 additional seats, a vestibule with room for bicycles and a new conductor room. In the future they will be called BD. The first rebuilt coaches are now in service.
As more first class is needed in these trains, several changes have taken place since December 2002. The default trains will consist of two first class coaches, one B(K)D, three second class and a driving trailer (Bs). The composite first-second class coaches have been swapped with ICR first class coaches (in blue livery).
Actually, quite a number of class ICR coaches in blue are suited to operate in Benelux trains. From 2008 the difference will be much clearer as the Benelux train will cease operating but NS Hispeed will operate hauled trains with refurbished class ICR coaches over the high-speed line HSL Zuid.
Actually, all "Benelux" coaches have been repainted, the interior has been changed but they are still used on the old Benelux service, as long as the locomotives class E186 cannot operate on the high-speed line yet. The driving trailers have not been modernised, as these cannot operate with the new locomotives.
---