The Railfaneurope.net Picture Gallery

Directory: /pix/es/private/work/GIF/Talgo350

Last update: Fri Jun 19 16:26:01 CEST 2015
Pictures on this page: 1
---
Other relevant directories:
Pictures: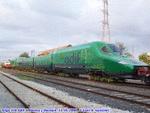 ADIF_A10_x1.jpg (133828 bytes)
A10 set (Talgo 350 prototype) of ADIF (ex-GIF), seen with the new corporate identity of ADIF.

At this stage, this set was bound for the high-speed workshops of La Sagra, using the Madrid-Portugal line (broad-gauge, diesel-only), hence those green diplories and the Class 333s...

Villaseca y Mocejón.

31st May 2006.

Photo by Juan Antonio González (Acknowledgements).


Posting and Comment by P.L.Guillemin (plguillemin@yahoo.fr).
---