Freundeskreis
Selketalbahn e. V.
- friends of 'Selketalbahn'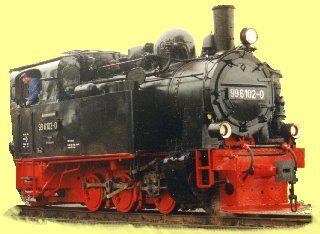 ---

Text in German
---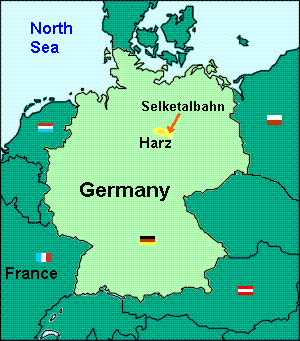 In Central Europe in the centre of Germany is located the Harz. The Harz is the nothernmost low mountain range of Germany. A narrow-gauge railway with a length of 131 km crosses the mountains. The routes are operated by Harzer Schmalspurbahnen GmbH (HSB) (Harz Narrow-Gauge Railway Ltd.). Mainly steam locomotives pull the trains in sheduled service every day.
In 1887 the Gernroder Harzgeroder Eisenbahngesellschaft (GHE) (Gernrode Harzgerode Railway company) opens the first railway in the Harz with a gauge of one meter. Because the track runs some kilometers along the valley of the little river "Selke", the railway received the surname "Selketalbahn" ("Selke-valley-railway"). Today the network of Harz narrow-gauge railways consists apart the Selketalbahn of the well-known routes Harzquerbahn (Harz cross railway) and Brockenbahn (Brocken railway), which were built by the Nordhausen Wernigeroder Eisenbahngesellschaft (NWE) (Nordhausen Wernigerode railway company).
With the target to preserve the trains with steam operation and the historical staff of the "Selketalbahn" railway enthusiasts founded the association Freundeskreis Selketalbahn (friends of 'Selketalbahn') in May 1991.
With special travels and other activities our association wants to increase the acquaintance of the nice railway by tourists and railfans. With the support of the maintenance workshop of the HSB our association regenerated the steam locomotive 99 6102 ("Fiffi") and put it into operation in August 1997 on the occasion of the ceremonies to 110 years "Selketalbahn". Since then the loco is used to drive special trains.

---
authors: Klaus Gottschling, Steffen Rienecker, Heiko Zeckai

Copyright (c) Freundeskreis Selketalbahn e. V.
The commercial use of text, graphics, photos, ... of this WWW-pages is only allowed after certification by the association.
For noncommercial use it is common to mention the names of the authors.

created on 2000/09/10;

webmaster@selketalbahn.de