I.G. "Harzer Schmalspurbahnen e.V."
I.G. "Harzer Schmalspurbahnen e.V." - 100 years 99 5901 "steam special" - February 1997
---
The Interessengemeinschaft / I.G. "Harzer Schmalspurbahnen e.V", i.e. the support group of the Harz Narrow-Gauge railways was created in 1990 by a group of young and motivated railwaymen.
Originally, a work group had been organized during GDR times: in 1988, dieselization was planned in the Harz with 30 engines of the type 199.8 (10 units of which are in operation today, mostly in freight service), and the steam locomotives were bound for scrapping...
Within these plans, the group worked on maintaining some kind of traditional operations.
After the border was open, there was very quickly an expression of wishes to reopen the service to the Brocken, which was closed since 1961, according to measures accompanying the building of "the Wall".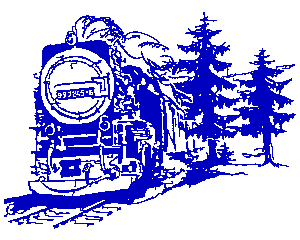 On the basis of this work-group, a support group was organized with the following goals: keep steam operations, maintain a set of historical vehicles, advertizing for the railway and for a global transportation concept, environment friendly, for the whole of northern Harz.
Several of the actions organized by the group:
- obtain signatures for the reopening of the Brocken line
- take part in conceiving the "Harz 2000" tranportation concept
A dramatic event caused changes in the actions of the group when, in 1991, a rather radical concept was elaborated where the whole network was abandonned except the Wernigerode to Brocken line, and all steam operations were stopped too !
The group did its best to motivate the public to the problem and helped building up the basis of today's operations...
And, 10/02/93 the management of the whole was transferred to the new "Harzer Schmalspurbahnen GmbH" and the group now works as a support group, closely collaborating with the HSB management.
Currently, the activities of the I.G. "Harzer Schmalspurbahnen e.V" are:
"steam specials" with interesting motive power (e.g. Mallet articulated steam locomotives),
work sessions for the maintenance of the historical locomotives and cars,
documentation about the history of the Harz railways
organisation of public meetings, advertising, sale of souvenirs,
organisation of evening club meetings,
4 times per year, the group edits its "Harzbahnpost" bulletin.
President

I.G. "Harzer Schmalspurbahnen e.V."
c/o Dirk-Uwe Günther
Vorsitzender des Vereins
Heinrich Heine Strasse 25
D 38855 Wernigerode

"Specials" reservations, information, etc...

I.G. "Harzer Schmalspurbahnen e.V."
c/o Volker Baake
Hangelgasse 9
D 38855 Silstedt

+49 (0)3943 22361

I.G. "Harzer Schmalspurbahnen e.V."
c/o HSB Wernigerode
(+49) (0)3943 55 82 12

ALLBANK Wernigerode
BLZ 250 206 00
Konto-Nr. 3513500474

POSTBANK Nl. Hannover
BLZ 250 100 30
Konto-Nr. 6256-80-303
---

---

* General disclaimer: while every precaution has been taken in the preparation of these documents, the author assumes no responsibility for errors or ommissions, or for any kind of damages resulting from the use of the information herein.
* Status: OK
* Last update: 12/12/1996
* Copyright:
- german text is © I.G. "Harzer Schmalspurbahnen e.V.", translation and customization © Philippe Quiot
- "Harz-specific" logos, graphics, etc... © Philippe Quiot unless specified otherwise, others belong to their authors
* e-mail: tog-ch@vtx.ch or tog-sa@he.net
-->