2043
Diesel-electric locomotive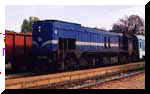 Croatian language - Hrvatski jezik
This locomotive series was derived from the 661 (HZ 2061) series »Kennedy«, in order to enable operation on the local tracks which supported lesser axle pressure (because in the meanwhile all the major mainlines had been electrified). Originally, ten units had been assigned for the reconstruction, but the project was restricted because of the war. The first reconstructed unit (646-001, today 2043-001) was assigned to service on 1991/02/13, and the last one (2043-006) on 1999/02/06.
The reconstruction began with the unit no. 661-101. The aim was to decrease the overall weight of the locomotive. To achieve the goal, the number of traction motors was reduced from six to four. Two traction motors were removed together with the reducers, which decreased the weight from 112 to 99 tons. After the removal of two traction motors, new electric circuits had to be calculated and installed.
The original steam car-heating system was replaced by electric heating system, manufactured by Uljanik Works in Pula, Croatia. Now it was possible to lower the front part (the hood) of the locomotive, where the steam generator had been originally situated. This allowed the engineers to have a clear view of the track. The installed power of the new unit has remained the same, but the traction effort was decreased because of the weight loss.
The unit 2043-004 was derived from 2061-005 (former 661-008); 2043-005 from 2061-004 (former 661-007); and the last one, 2043-006 from 2061-008 (former 661-018).
Technical data of the locomotive:
| | |
| --- | --- |
| Axle arrangement | (Ao1Ao)'(Ao1Ao)' |
| Years of reconstruction | 1991—1999 |
| Re-constructor | Zagreb Railway Works |
| Operated since | 1991/02/13 |
| Power of the unit | 1433 kW / 1950 hp |
| vmax | 124 km/h |
| Wheel diameter | 1016 mm |
| Weight of the unit | 99 t |
| Axle pressure | 16.5 t |
| Length including buffers | 18,941 mm |
| Height of the unit | 3,906 mm |
| Width of the unit | 2,819 mm |
| Cab | 1 |
Traction and auxiliary devices:
| | |
| --- | --- |
| Diesel motor | GMC 16-645 E (1640 kW / 2230 hp) |
| Electric traction motor | D77 / D47 (212 kW, 800 A, 265 V) |
| Main generator | D22L / D32L (1275 kW, 2400 A, 980 V) |
| Auxiliary generator | 18 kW, 74 V |
| Rectifier | 375 kW, 1500 V, 250 A |
| Compressor | Westinghouse WBO 8106 |
Structural alterations:
1) alternator for train heating manufactured by Uljanik Works of Croatia (three-phase AC, type S 3409 — K 3898; 375 kW, 197 A, 1100 V)
2) corresponding controller facilitating 1500 V DC, 375 kW for powering of the cars