THALYS is an integrated, international high speed service which serves Paris (France), Brussels (Belgium), Amsterdam (the Netherlands), Köln (Germany) and other destinations. Just like Eurostar, it brings the railways of several countries into cooperation under one semi-privatized commercial operation.
Thalys began service on June 2, 1996, with ten new red and silver trainsets. Deliveries continued until 1998 when all 27 trainsets, with two different subclasses, were delivered.
Thalys operates mainly over the LGV Nord-Europe, connecting to the newly opened high speed lines to Brussels and the Netherlands.
The Thalys Brand
The Thalys brand was designed by the firm Total Design from Brussels. The name Thalys has no particular meaning, and is a brand name easily pronounced and remembered in all the languages of the countries concerned. According to the design firm, the Thalys livery stresses European red, representing power, while the silver used on the trailers represents high technology (!). More realistically perhaps, the colors are reminiscent of the CC 40100 locomotives formerly used on this relation. The markings of the respective railways (SNCF, SNCB, NS, DBAG) have disappeared in favor of the Thalys logo, a feminine face in profile over a white arrow symbolizing speed.
On the inside, the design firm decided to minimize the visual differences between first and second class. The dominant color is again red, in both classes. Thalys logos on the seats distinguish the classes; they are green in second class and mauve in first. Carpeting is present throughout the entire trainset.
The Thalys Trainsets
Thalys trainsets come in two kinds, awkwardly named PBA (for Paris-Brussels-Amsterdam) and PBKA (adding Köln, Germany). The former are second-generation TGV trainsets narrowly derived from the TGV Réseau, while the latter are third-generation trainsets with power units identical to the TGV Duplex and single-level trailers.
Originally 27 third generation trainsets had been ordered, but due to design and production delays the first ten trainsets were instead built as second generation trainsets (on the tail end of the Réseau build) to allow Thalys to begin operating more or less on schedule.
Thalys
Build Dates: 1995-1998
Territory: LGV Nord-Europe and points north
Top Speed: 300 km/h (186 mph)
Number in Service: 27 (see fleet list for numbering)
Supply Voltages: 25kV 50Hz AC, 1.5kV DC, 3kV DC (15kV 16.7Hz AC for some)
Traction: Same as TGV Atlantique
Length and Weight: 200 m / 385 tonnes
Configuration: 1 power car + 8 trailers + 1 power car, 377 seats (see formations).
Performance Metrics: 23 kW/tonne / 1.02 tonnes/seat / 23.34 kW/seat
Spotting Features: Red/silver livery. PBA trainsets are in 4500 series and have split windshields, while PBKA trainsets are in 4300 series and have single windshields.
Images: [TGVweb] [ERS Picture Gallery]
Special Notes: International cooperation between France, Belgium, the Netherlands, and Germany. Two sub-classes, PBA and PBKA.
PBA Trainsets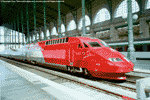 Thalys PBA trainset (photo: C. Tillier)
The PBA trainsets, based on the trivoltage version of the TGV Réseau trainsets, were first presented on 9 January 1996 by the Belgian railways (SNCB) in Brussels and by the Dutch railways (NS) in Utrecht. The presentation ceremony in Paris took place later, on 17 January 1996 at the Gare du Nord. All ten are owned by SNCF, and numbered in the 4500 series as are their Réseau brethren. They can function under 25kV 50Hz AC, 1.5kV and 3kV DC. Prior to Thalys service and rather than sitting idle, they joined the standard TGV fleet for the Brussels service, between 29 January and 2 June 1996.
Besides the new livery and interior, technical modifications include the addition of the Dutch cab signal, ATB phase IV. This equipment complements the TVM 430 cab signal (used on high speed lines), the KVB system (used on conventional lines in France), and the TBL cab signal used in Belgium. This addition entails a few extra electronics racks in the power units, as well as a dedicated display unit in each cab. Special care had to be taken with respect to the Dutch signalling system, which uses a frequency of 75Hz easily perturbed by the AC traction chain.
The GPU (Grand Plongeur Unique) pantographs had to be modified to limit their extension, to allow crossing drawbridges in the Netherlands, which typically don't have any catenary.
PBKA Trainsets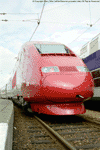 Thalys 4341 at Paris Bercy, September 1996
(photo: C. Tillier)
The PBKA trainsets are a special build, and not a conversion of an existing TGV type. They have similar single-level trailers, but the power units incorporate the latest technology of the TGV Duplex. 27 were ordered from GEC-Alsthom on 28 January 1994, by the four railways concerned (SNCF, SNCB, NS and DBAG), and 10 were later cancelled. SNCF ordered six, NS two, and SNCB nine. The German railway (DBAG) is only participating in the financing of two trainsets. The full roster is operational as of the first quarter of 1998.
The Thalys power units will function under four different supply systems: 25kV 50Hz, 15kV 16.7Hz, 3kV and 1.5kV DC. This versatility is a feature of modern AC traction chains. Yet another type of cab signal will be installed: the MFA (Modulares Führerraum Anzeigegerät, German for "modular cab display unit"). This will allow operation on German high speed lines equipped with the LZB cab signal, as used by the German ICE trains. The control desk on these units is dominated by the numerous signalling displays, used for no less than six different systems.
Livery and interior is identical to the PBA trainsets.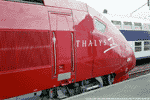 Thalys PBKA 4341 at Paris Bercy, September 1996 (photo: C. Tillier)

Other Thalys Sites
Key Thalys Dates
02 June 1996 Start of service
December 1996 First Thalys ski trains to Bourg St-Maurice in the French Alps.
01 June 1997 Start of service to Disneyland in Paris.
15 December 1997 Opening of high speed line between Antoing and Lembeek, putting Brussels 85 minutes from Paris. First service to Köln.
28 May 2000 Start of service to Geneva, Switzerland.
April 2001 Air France ceases air service on Paris - Brussels due to low ridership (450 daily passengers vs. 13700 daily riders on Thalys).
2003 Project fully operational with 68 trains per day.
Last modified: November 2000