InterCityExpress (ICE)/InterCity-NeiTech (ICT)

Introduction
Welcome to the ICE/ICT pages!
These unofficial pages provide information about the current and future generations of the ICE, the high speed train in Germany and Switzerland, soon in the Netherlands and other neighbour countries too. They also cover the ICT, a tilting train derived from and compatible with the ICE. The information on these pages is collected from generally available information sources, such as railway magazines and books. I tried to include any obtainable information about present and future versions of these trains. If you find any inaccuracies or would like to add something, please e-mail them to me (tbk@uncia.de).
---
Latest news: Spanish railways ordered 16 ICE 3 and 16 Talgo 350 for the high speed line Madrid - Barcelona.
---
Read here about the ICE 1 accident of 3rd June 1998 at Eschede.
As these pages are unofficial, they carry the original (and more interesting) ICE logo, which the DB AG doesn't use any more.
ICE® is a registered trademark of Deutsche Bahn AG.
Using the contents of these pages

If you would like to use or publish the graphics or anything else from these pages, please contact me in advance and tell me what you would like to do with it. Please don't abuse anything for commercial purposes unless I gave my permission first. This is a "bad example" how not to do it, an ad from DoubleClick for AltaVista:

The ICE 1 picture from this page was reduced in size, converted to black and white and used to make a commercial animated banner. Don't do this - ask me first. Thanks.

tobias b. köhler
---
Latest change: 2001-05-19 (ground plans for ICE 1, ICE 2 and ICT; timetable for the first ICT-D trains).
---
Photos of the ICE
---
Generations of the ICE


InterCityExperimental, a single experimental train, built in 1985. For a short period, it held the world record with a speed of 406.9 km/h (252.9 mph).


The first generation of the InterCityExpress, in service since 1991. Long trains (two power heads with ten to twelve cars) for domestic lines and connections to Switzerland/Austria. 59 ICE1 trainsets are in regular service today at speeds up to 280 km/h (one was lost in a bad accident in 1998).


The second generation, in service since 1997, consisting of only one power head with seven cars. 44 trainsets are in service on domestic lines up to 280 km/h.


The third generation, in service from 2000 on, will be able to circulate faster (technically 330 km/h, 300 km/h in regular service), on steeper lines and in other countries. For this, the 67 trainsets under construction have no separate power heads, but motors in half of the cars.

In 2001, the Spanish railway Renfe ordered 16 ICE 3 (and 16 Talgo 350) for their high-speed line Madrid - Barcelona. With 350 km/h, these will be the fastest regular trains of the world.

Ideas for possible future ICE generations. Currently it seems most likely that the next generation high-speed trains will be a product of German/French cooperation - a common successor to both ICE and TGV. We will see.

Even though based on a completely different technology, the trains for the planned Transrapid maglev line Hamburg - Berlin would have received the name ICE 5, as it was planned that this line would be operated by the DB AG. However this project has been cancelled. The Transrapid 08, currently being tested at the experimental line of Lathen, is painted in ICE colours though. See photos here.
ICE 21
The ICE 21 was planned as another experimental train for testing new technologies together with the industry, such as alternatives to the classic bogies used in today's ICE generations. However an agreement on its funding could not be found. The DB AG is less active in developing new trains now as it mostly sees itself as a customer of the railway industry. So the ICE 21 was not built. Some of the pre-developments for the ICE 21 may be used for future high-speed trains though.

---
Generations of the ICT


43 tilting InterCity trains with five or seven cars are being derived from the ICE family to speed up connections on conventional lines with up to 230 km/h. They entered service in 1999.


20 diesel-electric trainsets with four cars for 200 km/h are being built, to enter regular service in 2001.
---
The history of the ICE and ICT (and some predecessors)
1903:

An experimental 3-phase EMU built by AEG reaches 210.2 km/h on the line Marienfelde - Zossen, reaching world record and demonstrating the potential of electric traction for high speed.

1930:

The Schienenzeppelin of Franz Kruckenberg's Flugbahn-Gesellschaft, powered by an air propeller, reaches 230 km/h (world record).

1933:

Regular 160 km/h DMU service starts with the Fliegender Hamburger (Hamburg - Berlin). It is soon extended to numerous lines from Berlin to other big cities.

1936:

The three 160 km/h EMUs elT 1900, 1901 and 1902 (later renumbered to ET 11) go into service on the line Berchtesgaden - München - Stuttgart. Longer distances are not yet possible as not many lines are electrified.

1939:

Beginning of second world war, cancellation of all high speed DMU/EMU services.

1953:

The DB and DSG present two revolutionary lightweitht articulated DMUs to the public, the daytime train VT 10 501 "Senator" and the night train VT 10 551 "Komet".

1957:

The DB participates in the Trans-Europ-Express network with the VT 11 (later renumbered to class 601). Top speed is 160 km/h, but on regular services it only reaches 140 km/h. As TEE, IC and charter trains, they continue operating into the eighties.

1960:

Due to technical problems, both VT 10 are retired.

1964:

The DR takes its DMU of class VT 18.16 into service on fast national and international lines (later renumbered to class 175).

1972:

Four class 601 power cars are rebuilt to class 602 with gas turbine.

1973:

Three four-car EMUs of class 403/404 for 200 km/h are built and enter Intercity service. As they are more expensive than locomotive-hauled trains for the same speed, these prototypes remain the only of their kind.

1978:

The gas turbine power cars class 602 are retired.

1981:

The first TGV line is opened (Paris - Lyon). The success of this line causes the DB to take a closer look at high speed as well (the high speed lines Hannover - Würzburg and Mannheim - Stuttgart, under construction at that time, were not originally intended as high speed lines).

1982:

Class 403/404 repainted white/yellow and operating as Lufthansa Airport Express between Düsseldorf and Frankfurt Airport.
ICE-V ordered (first experimental train).

1985:

Regular service of DR class 175 ends.
ICE-V delivered to DB.

1988 (May):

ICE-V reaches world record (406.9 km/h).

1988: (end of May):

High speed line Fulda - Würzburg opened (airtight InterCity trains with class 120.1 at first).

1991:

ICE 1 delivered to DB.
First ICE line opened (Hamburg - Frankfurt - München).
High speed lines Hannover - Würzburg and Mannheim - Stuttgart start full operation.

1992:

Second ICE line opened (Hamburg - Würzburg - München).

1993:

All ICE 1 delivered.
Third ICE line opened (Hamburg - Frankfurt - Basel).

1994:

ICE demonstration tour in the USA for Amtrak.
First international ICE to Luzern.

1996:

First ICE 2 delivered to DBAG, operating between Bremen and Frankfurt as long trains.

1997:

ICE 2 reconfigured to half trains with cab cars and dining-cars, operation on the line Köln - Berlin begins, one train Hamburg - Berlin.

1998:

Testing of ICT (electric tilting trains) begins.
On 3rd June, a defective wheel tyre on an ICE 1 causes a bad accident near Eschede (between Hannover and Hamburg). All ICE 1 are temporarily taken out of service.
High speed line Hannover - Berlin opens (mostly operated with ICE 2 of the line Düsseldorf / Bonn - Berlin).

1999:

Testing of ICE 3 for DBAG and NS begins.
First ICT line opens (Stuttgart - Zürich).
First vehicles of ICT-VT (diesel-electric tilting trains) completed for testing.

2000:

First ICE 3 services started (Amsterdam - Köln and special trains to Expo 2000).
ICT lines Berlin - München and Dresden - Frankfurt opened.


2001:

Renfe orders 16 ICE 3 and 16 Talgo 350 for Madrid - Barcelona.
First ICT-VT line (Dresden - Nürnberg) starts operation in June.

2002:

High speed line Köln - Frankfurt opens with ICE 3 trains.
High speed line Madrid - Zaragoza - Lleida opens with gauge-changing Talgo 200 trains.

2004:

High speed line extended from Lleida to Barcelona. New ICE 3 and Talgo 350 trains go into service.
Additional ICT sets delivered.

2005:

Tilting trains for TEE Rail Alliance delivered to DB AG, SBB CFF FFS and ÖBB.
---
The ICE network
This map of all regular ICE lines (as of winter 2000/2001) was created by Hisayuki Huh in Japan, who is running the page Railways in Germany in English and Japanese.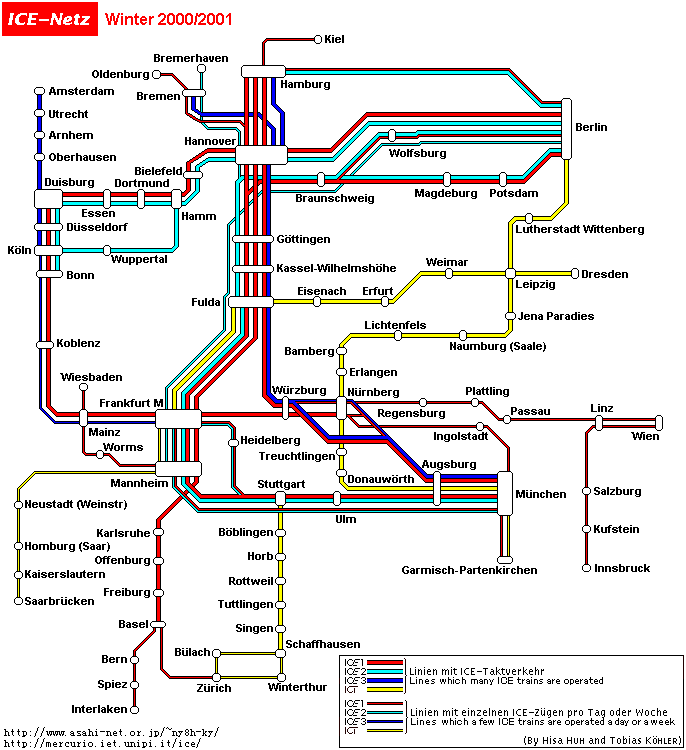 See also Marcel Grahnert's list of all ICE and EXE trains in summer 2000.
WWW links






ICE manufacturers:
Other high speed trains:
---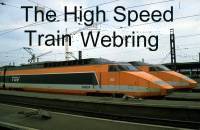 ---
tobias benjamin köhler (tbk@uncia.de)