341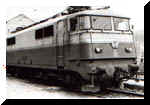 Photo: from Dragutin Stanicic colection

Croatian language - Hrvatski jezik

The electric locomotive manufactured by the French Altshom company, which later adopted the serial no. 341-001 and the nickname »Marijana«, was delivered from France on 1955/12/01, representing the sole unit of the series. It was designed for hauling freight and passenger-trains on the new mountain part of the electrified Rijeka mainline. This was the first newly purchased electric locomotive at Zagreb Railway Department and at JŽ in general. Further orders were abandoned because of the high axle pressure. The original serial number was JŽ 41-001.

The maintenance of this locomotive always caused lots of trouble, because there was only one unit of the type, so the production of the spare parts was not worth while.

Popularly called »Marijana« in its last years offered a reliable support to the railways, assisting the hauling on the highest ascents on the tracks from Rijeka to Fužine and Lokve. This was intended to be continued until the re-electrification of Moravice - Rijeka line, but failed to be fulfilled, so it made its last kilometers in May 1986.

Croatian language - Hrvatski jezik
Specifications (general)
| | |
| --- | --- |
| Manufacturer | Alstom |
| Build | 1955 |
| No build (total) | 1 |
| No build (for ŽTP Zagreb - today HŽ) | 1 |
| In service | 1955/12/12 - may 1986 |
| Class id (ŽTP Zagreb) | see JŽ numbers |
| Class id (JŽ) | E 41, later 341 |
| Numbering | 341 001 |
| No of units in (ŽTP Zagreb - today HŽ) | 1 |
| In service (active) | withdrawn (1990. in Rijeka) |
| Cab(s) | 2 |
| Pantograph(s) | 2 |
Technical specifications
| | |
| --- | --- |
| Wheel arrangement | Bo'Bo' |
| Gauge | 1435 mm |
| Power supply | 3000V= |
| Tot weight | 80 t |
| Axle pressure | 20 t |
| Power | 1375 kW (1870 hp) |
| Max speed | 95 km/h |
| Motor of the ventilator | 13 kW, 1350 V |
| Motor of the compressor | Oerlikon CA 3 Pu 10 kW |
Dimensions
| | |
| --- | --- |
| Length incl. buffers | 16000 mm |
| Wheel diam | 1250 mm |