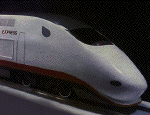 A model of the Florida Overland eXpress (photo: GEC Alsthom)

The Florida Overland eXpress (FOX) system, currently in the planning stages, will operate from Miami to Tampa via Orlando, on dedicated track, with no grade crossings, at a maximum speed of 200 mph. The FOX equipment and track are patterned after the French TGV high speed rail system, and will be used exclusively for passenger service starting in 2004.
History of the Project
Early efforts to start a high speed rail system in Florida were failures due to lack of sufficient (private) funds, just as with the Texas TGV. In 1991, the Florida Department of Transportation (FDOT) initiated studies to explore the possibility of bringing high speed rail to Florida, but this time with the potential of partial public funding. In early 1995, the FDOT put out a Request for Proposals soliciting plans from private companies to finance, operate, and build a high speed rail system linking the major urban areas of the state. By the 31 October 1995 deadline, there were five responses. Besides the winning FOX proposal, these were:
A proposal from Rail Florida, based on the Swedish X2000 tilt train. Rail Florida, operating from Ft. Lauderdale, was a consortium of Amtrak, ABB Traction (makers of the X2000) and Raytheon Infrastructure Services.
An italian proposal from Italferr, a subsidiary of the Italian State Railways, based on the latest Pendolino trains and possibly the ETR 500.
Two proposals involving magnetically levitated trains: one from Florida Maglev Consortium, based in Edgewater, FL, and another from Florida Magplane Inc., based in Lakeland, FL.
The two maglev proposals and the Italian entry were eliminated because of unproven technology or incomplete applications. The Request for Proposals set out specific requirements for project time schedules, safety, proven technology and demonstrated performance, environmental impact, and financing, which narrowed the field down to Rail Florida and FOX. FOX was chosen after several months of consideration, principally on the grounds of its better financing plan.
The overall cost of the FOX project is currently projected to be $6.2 billion, funded in part by the state of Florida. Florida has committed a yearly amount of $70 million to the project for 46 years, escalated at 4 percent, for a total of $3.2 billion. The private FOX consortium is taking on a large financial responsibility, to the tune of $349 million. The state of Florida is also trying to get $300 million of federal funding, and there is a non-zero probability that the funding (and project) might fall through.
The Florida Overland eXpress consortium includes GEC Alsthom Transport, maker of the TGV, as well as Fluor Daniel, an engineering and construction services company based in Irvine, Calif.; Odebrecht Contractors of Florida, a division of the Brazil-based Odebrecht Group; and Quebec-based Bombardier, the largest supplier of passenger rail cars in North America, which holds the exclusive license to TGV technology in North America.
The FOX System
The line from Miami to Orlando is scheduled to be completed by 2004, and the extension to Tampa in 2006. Half-hourly departures will speed travellers from Miami to Orlando in 90 minutes, and to Tampa in another 49 minutes. Fares are planned at $54 coach for Miami-Orlando, and $21 coach for Orlando-Tampa. Stations are proposed at Miami International Airport, west Broward County, West Palm Beach, Orlando International Airport, Orlando tourist attractions area, Lakeland and Tampa.
The FOX high speed line
The FOX line will be a double tracked, dedicated right-of-way with no grade crossings. Roads will cross the tracks using approximately 100 overpasses and 60 underpasses. The line will be entirely fenced for safety, to prevent accidents involving trespassers and animals. There will be equipment to detect right-of-way intrusion, high winds, flood conditions, and trainset defects. These detection systems will be integrated into the signalling system. (Florida presents environmental challenges not usually seen in France: hurricanes, extremely frequent lightning, floods, etc.)
The signalling system on FOX will be a new Positive Train Control (PTC) system currently under development in Europe.
The FOX trainsets
The 26 Florida Overland eXpress trainsets will be closely related to the latest TGVs. They will be technically identical to a type of TGV trainset currently operating in Europe, the Thalys PBKA. As such the trainset will be a fixed, reversible formation of 1 power car, 8 articulated trailers, and another power car. Each end of the trainset will have standard couplers for emergencies, hidden inside the nose. The trains will be powered by conventional 25 kV overhead catenary and AC synchronous traction motors, as used in France, and will reach a maximum speed of 200 mph (320 km/h). The exterior and interior of the train will be specially styled for FOX.
Safety
The FOX system is expected to be an extremely safe way to travel. Where the TGV system in France already has an exceptional record (see TGV incidents) FOX plans to further enhance safety. In particular, FOX trains will operate at a relatively low traffic density, will never share tracks with other trains, will feature a sophisticated right-of-way intrusion protection system, and stations will have protective platform doors to keep passengers away from the track.
The safety philosophy used for FOX is somewhat new in the US, since it places a premium on accident avoidance over accident survival. The success of this approach has been directly and amply demonstrated over more than 20 years of TGV operations in France. FOX will draw from the extensive experience (good and bad) accumulated by the TGV system.