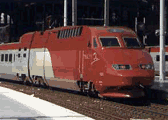 Prototype (PBA type)
Model (PBKA type)
This is a complete scale model of the Thalys high speed train. You can build either of two prototype trainsets: Thalys PBA (with the older-style power car) and Thalys PBKA with the new power car. For exactly what makes a PBKA different from a PBA, see TGV Spotter's Guide and article. Select the links below to view and print the parts sheets, making sure to read the corresponding instruction sheet before starting. Each vehicle will take you about 45 minutes to 1 hour to build. I wish to thank André Sintzoff and Tanguy Couvrat-Desvergnes for their help in getting the details right.
Trainset assembly
Put your trainset together in the following order: 1 Power Car, trailers R1, R2, R3, R4 and R5 (oriented so that the door is closest to the first Power Car), trailers R6, R7 and R8 (oriented so that the door is closest to the second Power Car), and finally the second Power Car. See TGV trainset formations for more detail.
Photos of Finished Models
Please Send in your photos!
TGV Thalys PBA by Kit Swanson

TGV Thalys PBA by Dimitri

TGV Speedrail (Australia), TGV KTX (Korea), TGV Thalys PBKA by Clem Tillier

TGV Thalys PBKA by Clem Tillier (TGV Atlantique in the background)

TGV La Poste and TGV Thalys PBA by Raymond Van Campenhout, both at 150% larger than the parts sheets or close to HO scale.

TGV Thalys PBKA by Raymond Van Campenhout. Raymond further improved the model on the right by leaving some surfaces curved. Both are built 150% larger than the parts sheets or close to HO scale.

TGV Speedrail and TGV Thalys PBKA by Raymond Van Campenhout. Both are built 150% larger than the parts sheets or close to HO scale.

TGV Thalys PBKA by Raymond Van Campenhout. Raymond further improved the model by leaving some surfaces curved.

TGVs by Raymond Van Campenhout. The bottom two are printed at the scale recommended on the parts sheets, while the top two (Speedrail and Thalys) are printed 150% larger or very close to HO scale.

TGV La Poste and TGV Thalys PBA by Raymond Van Campenhout. Both were built 150% larger, close to HO scale.

TGV La Poste and TGV Thalys PBA by Raymond Van Campenhout.

TGV Thalys PBA by Raymond Van Campenhout.

TGV Thalys PBA and TGV La Poste by Raymond Van Campenhout. As the ruler shows, both were built about 150% larger than recommended in the part sheets, about HO scale.

| | |
| --- | --- |
| | TGV Thalys PBA, TGV Atlantique and TGV Sud-Est built by Clem Tillier |

Last update: May 2001